Phosphor Bronze Wire Mesh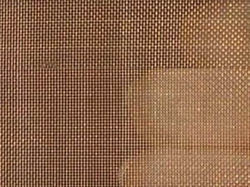 Phosphor Bronze Wire Mesh
Product Description
Phosphor Bronze Wire Mesh is extensively utilized as fine wire cloth in a number of industries, such as; porcelain printing, sieving many kinds of grain, porcelain clay, filtering liquid, gas, powder and so on. It offers lower electrical conductivity as compared with copper wire, much better abrasion resistance, and better corrosion resistance. Owing to all, our Phosphor Bronze Wire Mesh is extensively demanded and appreciated among the valued users.

Salient Feature:-

Materials: Phosphor bronze wire
Weaving: Plain weave, twill weave and dutch-plain weave
Our company can supply phosphor bronze wire mesh or phosphor bronze wire cloth from 1 mesh to 500mesh. Width from 0.6m to 1.3m, length from 15m to 100m.
Advantages:-

Acid resistance, Corrosion resistance, wear resistance, and alkali resistance, good ductibility and nonmagnetic.
| | | | | | |
| --- | --- | --- | --- | --- | --- |
| Mesh Size | Wire Diameter | Aperture | Weight | | |
| /inch | /mm | SWG | mm | mm | kgs/M2 |
| 60 | 23.62 | 37 | 0.173 | 0.25 | 0.99 |
| 60 | 23.62 | 38 | 0.15 | 0.27 | 0.75 |
| 80 | 31.5 | 40 | 0.122 | 0.196 | 0.66 |
| 80 | 31.5 | 42 | 0.1 | 0.22 | 0.44 |
| 100 | 39.37 | 42 | 0.012 | 0.242 | 0.01 |
| 100 | 39.37 | 43 | 0.09 | 0.14 | 0.45 |
| 120 | 47.24 | 44 | 0.081 | 0.131 | 0.44 |
| 120 | 47.24 | 45 | 0.07 | 0.14 | 0.33 |
| 140 | 55.12 | 46 | 0.061 | 0.12 | 0.29 |
| 150 | 59.06 | 46 | 0.061 | 0.108 | 0.31 |
| 160 | 62.99 | 46 | 0.061 | 0.098 | 0.33 |
| 180 | 70.87 | 47 | 0.51 | 0.09 | 0.26 |
| 200 | 78.74 | 47 | 0.51 | 0.076 | 0.2 |
Contact Us
A 7/89, SOUTH SIDE G.T. ROAD INDUSTRIAL AREA Ghaziabad Uttar Pradesh India +918037303925
Phone :+918037303925